I had the opportunity to visit North Sikkim….thanks to Gauri Butche, TBi, Pune.Right from first day at Gangtok- 5,500 ft & there after every day we were climbing high in Himalayan Mountains. Nathula pass being 14,140 with fog, mild rains & chills was very challenging .Next day was Lachen- 8,980 ft., being a stopover to enjoy Kala Pathar-16,932 ft. To view dark black Himalayan Mountains with fresh white soft snow to play & enjoy. Of Course this is a solace in the way to reach The Gurudonamar Lake -17,100 ft., a breath taking experience. More so, there is a fear in mind about High Altitude sickness while reaching there. Once reached & walked there with baby steps & minimal talking, you get a tremendous sense of achievement!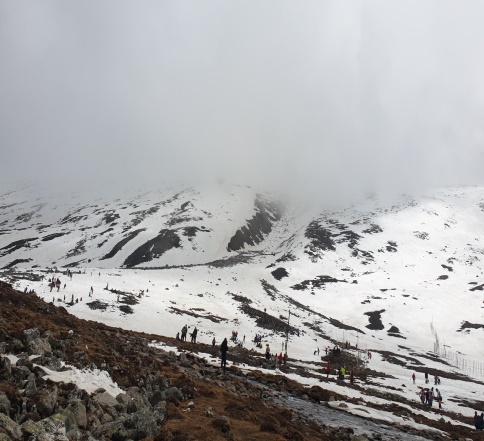 Zero Point
Now to reach Lachung – 8738 ft. the next day. This is once again a stopover to reach Yumthang valley at 12,000 ft. But excitation is further….that is to travel further to reach Zero point- 15,300 ft. the last civilian reach. Here you view a large panorama of Himalayan Mountains with soft snow everywhere to cater hundreds of tourists!!
Then of course back to Lachung to different destinations in Sikkim or back to Gangtok.
What I experienced is the 5 to 6 hours of daily car travel (all mountain travel……round & round), at times even 10 hours requires lots of patience. But expert, polite drivers, Xylo cars, perfect stops for waterfalls & healthy food ( momos, noodles, rice……piping hot!) make you forget everything.
The walking, climbing is not much! But sufficient strength in your muscles habit of stretching selective muscles, deep breathing techniques taught in Yogic practices surely multiply the pleasure.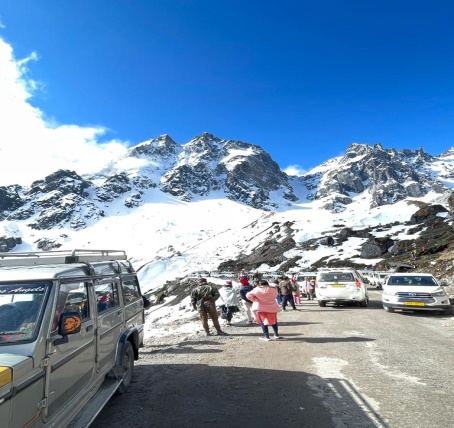 Kala Pathar
Above all the Art Of relaxation, enjoyment but being careful is well taught by Yoga.
GAURI…..Thanks once again!!
Dr Vineeta Ketkar
Visit website- www.gnosismedicalyoga.comc
* We teach this information in the Medical Yoga Teacher Course and Advance Course for Yoga Professionals and doctors.
* This information is applied in Medical Yoga Therapy to help the patients.